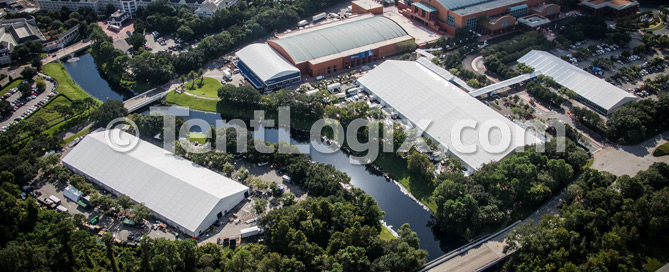 For the Gartner Symposium/ITxpo, Tentlogix supplied six unique trade show tents providing over 210,000 sq. ft. of temperature controlled event space. To create a campus-like environment for the client and their guests to move freely throughout the three resorts hosting the event, a number of custom structures were designed, engineered, and fabricated specifically for this project including a 25m x 55m x 8m Arcum™ Emporium™ structure and a 15m x 30m Mono-Pitch Structure.
The Arcum™ Emporium™ was designed and fabricated to create an contiguous extension of the existing convention space by connecting to the existing building with a custom metal rain gutter and an 26' high eave to allow for the three overhead doors of the convention space to remain open and temperature controlled throughout the event.
The use of highly customized structures helped us achieve the client's goal of providing seamless transitions from permanent convention space to temporary space while retaining the look and feel of the more permanent structures though the integration of glass walls, insulated hard walls, etc. We worked with multiple engineers throughout the design and permit process which included the installation of a full sprinkler system and fire notification/pull stations/strobes.
The Central Pavilion structure measured 164' x 410' – much larger than a football field including end zones! Over 2,500 tons of cooling capacity was provided to ensure even and consistent temperature control of the massive structures – many of which cooled by utilizing custom polyducts which rain throughout the roof of the structures.
All tents included elevated flooring systems with color matched carpeting throughout. Over a mile of glass walls and insulated hard walls were provided to complete the refined look and feel the client was looking for, and PMS color printed fabric panels were provided to give a customized look to the structures.
The overall size and scope of the project, combined with a strict build schedule and installation on an active resort property without disrupting guest activities provided unique challenges, all of which were readily met leaving the client, designer, exhibitors, and engineers thrilled with the event.
At TentLogix, we are dedicated to providing top notch products and long-term tent rental solutions, and we take great pride in partnering with our clients to provide ongoing logistics and support.
For more information or to speak with a sales rep,  call 888-34-PARTY today!